Check Out the Latest Content!
My Inspirations
Check out the new profiles in the My Inspirations section of the website. This is dedicated to the engineers, thinkers, tinkerers and more who lead me down the road I'm on.
Latest Profiles
This will be an ever growing list of people I would love to meet one day and have a conversation with. Each of them had an impact in my life personally and the lives of many others just like me. Now you can read about them and see how they influenced you too.
Two Custom Shops!
Check out the new items in the Shop. Currently the "Shop" consists of 2 different Stores. Each shop carries different types of items.
---
Apparel Shop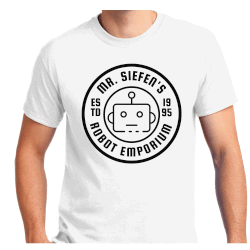 Some custom items are offered through a Share & Sell Store powered by LogoSportswear. This is mainly just apparel items like shirts, hoodies, etc.
---
Main Shop
CURRENTLY IN TEST ONLY MODE

The rest of my items are sold in the Main Shop. We carry the following items here:
Stickers
Hats
STEM Kits
Custom PCBs
---
Latest Github Repos