Shopping Page
Apparel Store by LogoSportswear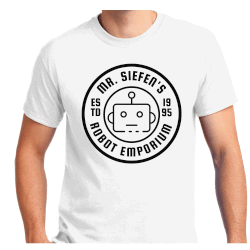 Some Custom items like the Coffee Mug, Drawstring Bags, Shirts, Long Sleeves, Hoodies, etc. will be available here. LogoSportswear allows people like me to host a Customized Apparel store and earn commissions for items. I do not then have to have a minimum number of orders, I do not have to stock the items in a warehouse, I do not have to process the payments, shipping etc. The downside is this only works for my some of my items... Everything else is available through my own custom webstore!
Main Store
CURRENTLY IN TEST ONLY MODE

All my other items i.e. Hats, Stickers, Custom PCBs, Lamps, STEM kits, etc. are sold here. Payments are securely processed through a Stripe Secure Payments form. Items in the Main Store are shipped, handled, stocked by Mr. Siefen directly. Sadly, this means we can only ship these items to US customers only CURRENTLY (w.i.p.). We are working on finding an easy to implement international shipping solution. International orders will be refunded or canceled!