Grant Imahara
D.O.B. October 23, 1970
D.O.D. July 13, 2020
Wikipedia: link
Why is Grant Imahara an Inspiration?
"I hope people can envision a future where we as humans have robots that are alongside us, assisting in our daily lives."
Grant Imahara was a dreamer, entertainer, mechanical genius and made everyone around him feel like they could achieve anything. Sadly he left us at a time where the above quote really started to became true for everyone around the world.
He did an amazing job and had the most direct impact on me and I think a whole generation of Engineers. He was instrumental in the creation of many key films through his time at Lucasfilm and ILM. If you aren't sure if you've seen em, here's a list of movies he worked on (not all inclusive).
Star Wars: Episode 1
Star Wars: Episode 2
Star Wars: Episode 3
The Lost World: Jurassic Pack
The Matrix Reloaded
The Matrix Revolutions
Terminator 3
Find out more in the video below
Grant Imahara and BattleBots
Grant was a veteran battler with one of the original's known as "Deadblow". He competed from 1999-2002 and was runner-up season 1.0 in the middle weight championship! Season 2.0 he made it to the quarter finals. He announced his retirement from combat robotics in 2018 while also becoming a guest Judge on the rebooted show.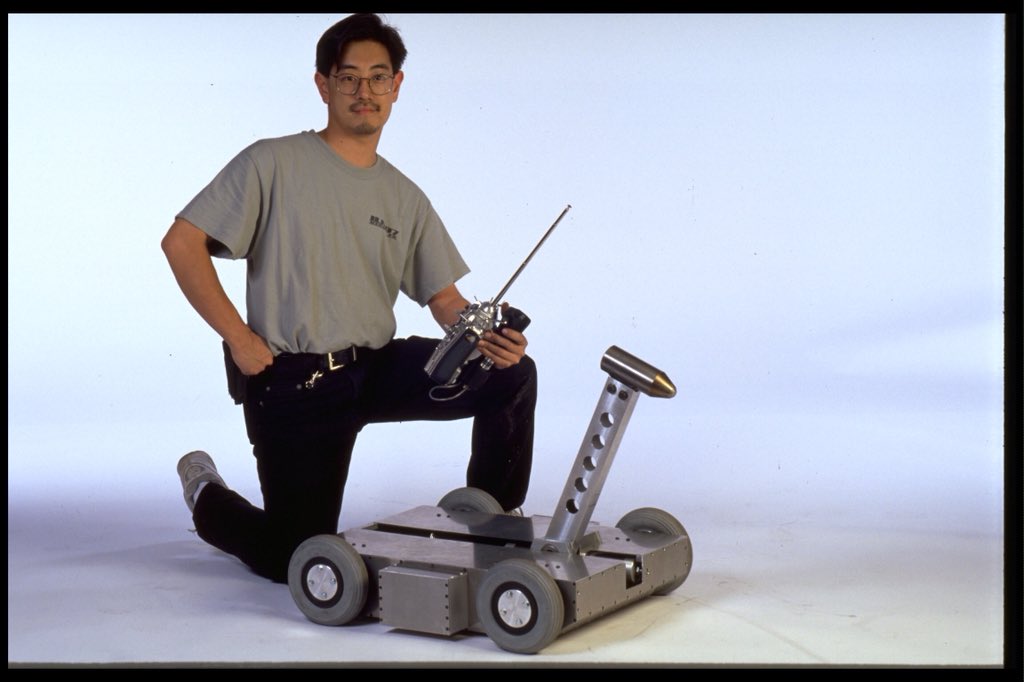 Some of Grant and Deadblow's matches on BattleBots can be found in the playlist below.
After the original BattleBots went into hiatus he hosted "Killer Robots" in 2011 for the Science Channel. The TV special was the first televised robotic combat event since 2004 at that time. He also was the host of "RoboGames" in 2015.
Below is a behind the scenes look at one of the matches filmed for the "Killer Robots" special.
In his memory after he passed in 2020, BattleBots created the "Grant Imahara Design Award" for the best design in each season! The first winner of the award was "Chomp" a lidar equipped, flame-throwing hammer bot. It seems fitting that the natural evolution of "Deadblow" was another hammer bot with theatrical upgrades! Check out the picture below of the awesome lugnut trophy!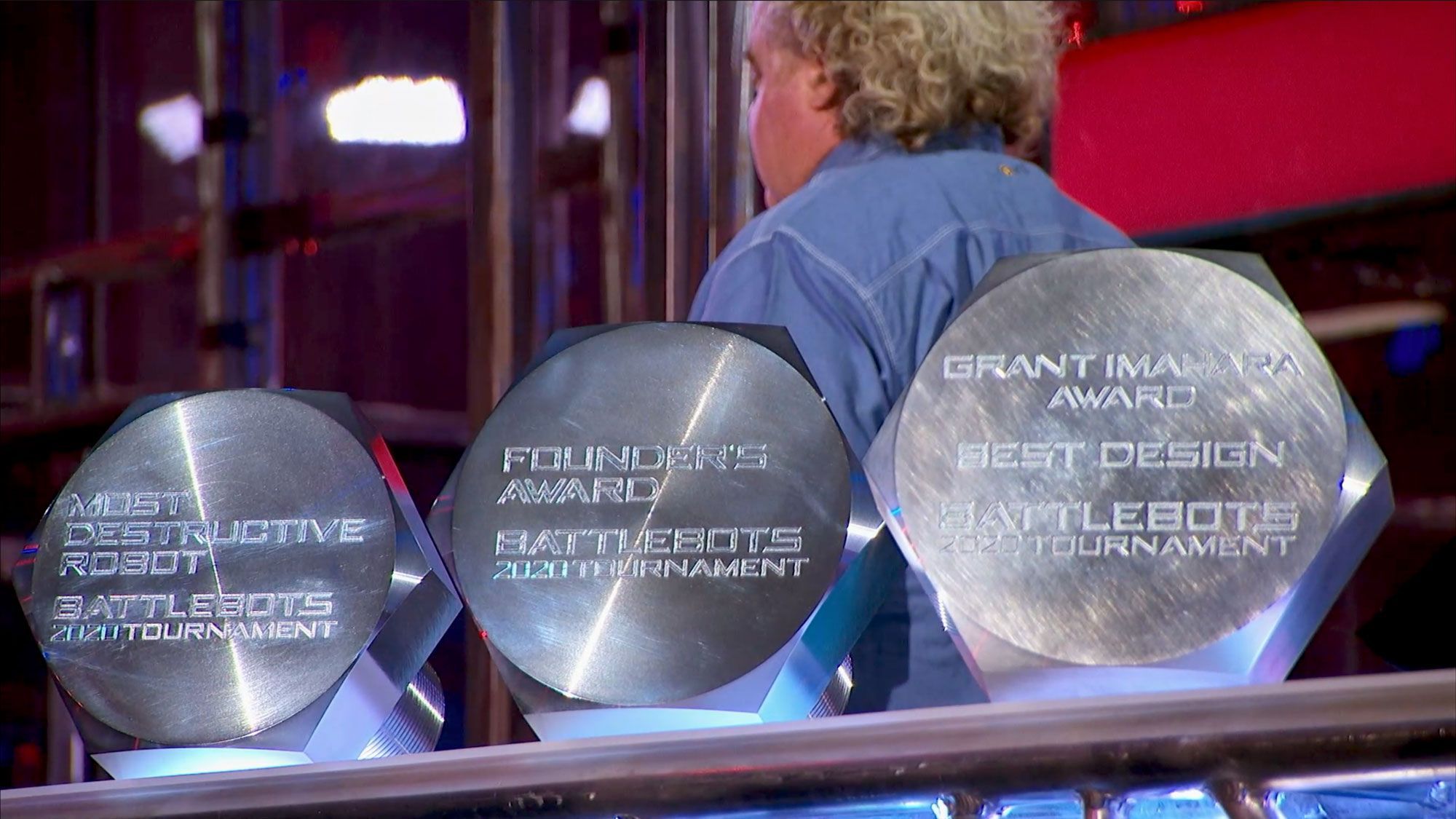 Grant Imahara and Technology
Below is a series of videos that I think best show Grant's innovative ideas, designs and his impact on technology and the people around him. I've added a small description for each and what I really like about each video.
A Tour of Grant's Workshop guided by Adam Savage
Adam Savage is another idol who will make this list as soon as I can get to it! He and Grant worked together for years both in the industry of special effects and together on Mythbusters. Warning: Massive amounts of Feels, Geekery and Nostalgia abound!
Building a Future Home with Grant Imahara
IOT is a super big part of my life and this series really taught me so much. He presented it in a unique and engaging way that only he could. It's hard to teach pc building, networking, security, renewable energy and more in a 5 video series.
Neil deGrasse Tyson Interviewing Grant Imahara
Neil and Grant (Two Scientific Icons in one room!) both are visionaries and big thinkers. They both have a similar underlying passion of teaching, explaining science to the masses. This interview covers many many topics.
Xamarin Evolve 2016: Grant Imahara
Grant breaks down his thoughts about robotics, mobile devices and more. It also gives some cool background on some of his mechanisms that made Mythbusters Experiments happen.
Grant Imahara and S.T.E.A.M.
Grant Imahara was a believer and mentor of many S.T.E.A.M. programs. He was a founding mentor for FRC Team 841, a spokesperson for F.I.R.S.T. on a global level and one of the reasons students even liked robots as a kid. I can very vividly remember watching him speak in the design video and I knew I was in for life with robotics.
FRC Team 841 2019/2020 Robot
This is the same team that Grant was a founding member of. 20 years later from that rookie season and the program continues! He planted the seeds of an awesome engineering tree!
Grant Imahara and the Robot Design Process
Grant explains in simple, entertaining terms how to make good designs to accomplish any challenge. It is provided very specifically in the context of F.I.R.S.T. robotics but it can apply to any robotic project. He breaks down the steps of the design process clearly and this can apply to not just robotic designs but to solve any engineering problem!
Below is also a video Grant did promoting safety for FIRST. Again using his trademark style he passed along super important information in a way that sticks.
FIRST Safety Video Featuring Grant Imahara
While he isn't with us anymore his philosophy lives on through the work of the excellent Grant Imahara STEAM Foundation! Please support their mission and help continue supporting programs that Grant believed in. On the foundations website you can find out alot more about Grant, the Foundation, the Projects they support and more.
Celebrating Grant Imahara - Created by the Grant Imahara STEAM Foundation