Dean Kamen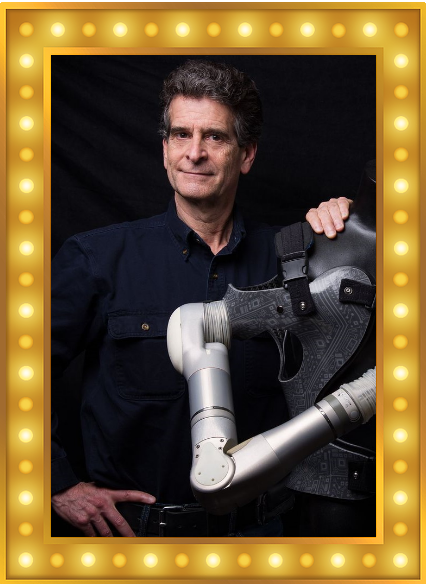 D.O.B. April 5, 1951
D.O.D. Alive!
Wikipedia: link
Why is Dean Kamen an Inspiration?
"I've never regretted anything I've done, even the things that I've failed at. I've often regretted not trying something really big, because you'll never know."
Inventor of the Segway, the Slingshot Water Purifier, microdispening components used in the Coke Freestyle machines and an insulin pump are just a few things Dean gets to claim credit for. Born in Long Island, New York to Jack and Evelyn Kamen, Dean was 1 of four children. His father was an illustrator for books, magazines and comic books. Jack Kamen was best known for his work for EC Comics including series like Tales from the Crypt.
Dean was an entrepreneur even at a young age. He built light and sound systems for local bands and museums which in high school. He earned $60,000 before graduating. He attended Worcester Polytechnic Institute, but dropped out before graduating. At that point he was already 5 years into private research on the insulin pump called "AutoSyringe".
Dean went on to create the IBot (a stair climbing wheelchair). It was revealed to the public in 1999 after 7 years of development. The Segway came from this same product development in 2001. Both products were created through Dean's company Deka (which is Dean Kamen shortened...). Other projects from Deka include the LUKE prosthetic robot arm and more!
Find out more in the video below
Dean Kamen and Inventing
Looking back at some of the 150+ patents for Dean's inventions there are many great "Inventions", and not "Innovations". I DON'T mean that they are any less important or that they are not game changing in their own right. Dean himself said "To me, innovations are the wheel, fire, language, movable type. There are not 3 million innovations; there are 3 million inventions." To him "An innovation is one of those things that society looks at and says, if we make this part of the way we live and work, it will change the way we live and work." The first of many such devices Dean envisioned was the AutoSyringe Insulin Pump.
Below is the original Patent that Dean filed in 1973 (Published in 1975), while he was a sophomore at Worcester Polytechnic Institute. The main improvements that he made in the AutoSyringe better than the previous options were portability, the automatic nature and the fact that it provided accurate and timed dosing. Typically patients had to go to a hospital for larger long term doses or do difficult injections at home on their own. Dean sold the AutoSyringe company to Baxter International Corp. in 1982 in order to form DEKA.
DEKA currently employs about 400 engineers, technicians and support staff built around Dean's inventions. Over the years DEKA has been involved in the creation of numerous Medical, Transportation and Filtration products. Below are pages about some of the previous projects and some of the current ones!
IBOT Wheelchair
HomeChoice Dialysis Machine Magazine Cover
Dean Kamen and Inventing cont.
Revolt Electric and Stirling Engine Car
Segway Introduction Good Morning America Dec 3, 2001
Slingshot Water Purifier
Veteran's Receiving DARPA/DEKA Luke Prosthetic Arms